-High - efficiency power transform transformation technologies realized by developing dedicated ASIC featuring latest control theory.
-Diversify functions added and convenience of use-performance control algorithm.
-Precision control realized by the application of high-performance control algorithm.
-Additional services provided through various kinds of communication options. (PC Communication, Touch Screen, High-order Network Communication)
-Loader (6 digits) is basically mounted for the convenience of use
-Various menu function that is applied instantly after changing.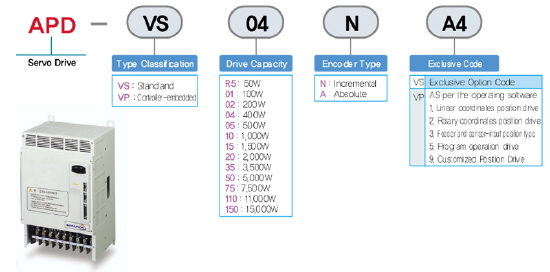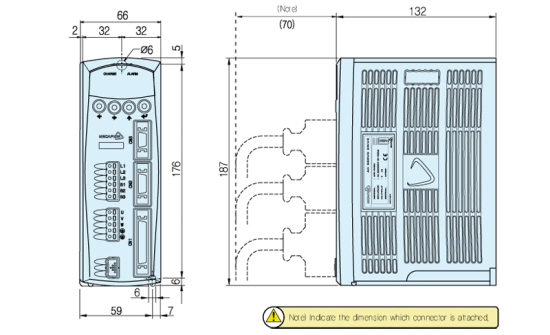 Ratings and Characteristics
Servo Drive (APD-VS)
01
Input Power (★Note1)
3phaseAC200~230[A]+10%-15%,50/60[Hz]
ApplicableMotor
Voltage Type
3phase sine wave PWM drive AC Servo Motor


Rated Current [A]
1.65


Max. Current[A]
4.95
Detector Type
Standard : Incremental5V Line Driver 2000~10000P/rev
Option : Absolute 11/13bit
SpeedControlMode
Control Function
Speed Control Range (1:10000), Frequency Response (400Hz)
Speed Command
DC-10~+10[V](-Voltage : Reverse Rotation), Digital Command 7 Speeds.
Acceleration/Deceleration Time
Linear, s shape Acceleration/Direstion (0~100000[msec]), 1[msec] unit setting is possible
Speed Variation Ratio
±0.01%or less (Load Variation), ±0.1or less (Temperature 25 ±10℃)






PositionControlMode
Input Frequency
500[kpps]
Pulse
A+B Phase, Forward+Reverse Pulse,Direction+Pulse(Lind driver, Open collector)
Electronic Gear Ratio
Digital 4 Speed (1/50~50), gear ratio setting, selecting & Accurate adjusting of digital 4speeds






Torque Control Mode


Torque Command : DC-10~+10[V] (- Voltage : Reverse), Linearity is less then 4%
Braking Type


Generative Brske ,Regenerative Brake
Ambient Environment


Operating Temp :0~50[℃]
Storage Temp :-20~+80[℃]
Humidity :less then 90[%]
Option     
For CN1 Cable     
External Dimension
---

Soft Download Cable
Model APC-CN 302S
External Dimension
---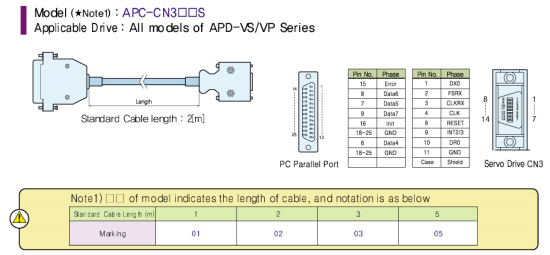 Model APC-CN 302R
External Dimension
---

Handy Loader
Model - Handy Loader ; APC-HD100A
External Dimension
---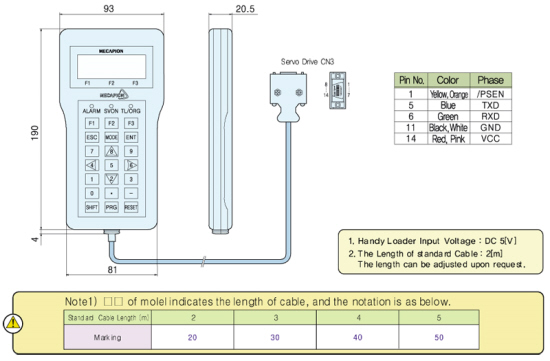 Model APC- DPU00B
External Dimension
---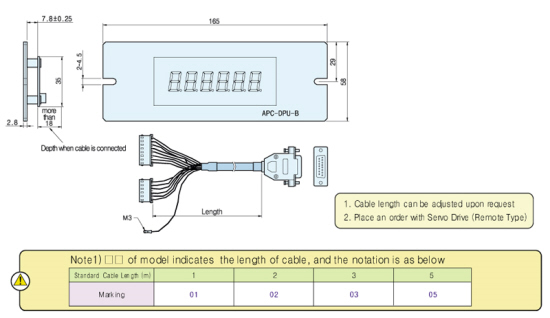 Model APC-VSCN1T, APC-VPCN1T
External Dimension
---

CN1 Connector
Model APC-CN1NNA
External Dimension
---

CN2 Connector
Model APC-CN2NNA
External Dimension
---

CN3 Connector
Model APC-CN3NNA
External Dimension
---

Standard Type Mono Touch Loader
Standard Type Color Touch Loader
Model
- Mono Touch Loader : APC-VSTS3M
- Color Touch Loader : APC-VSTS3TA
External Dimension
---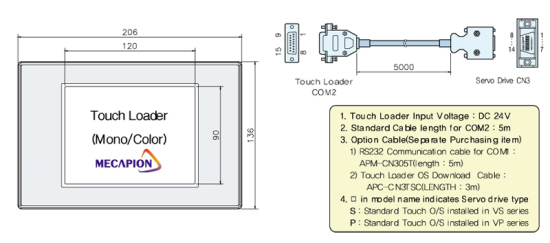 Standard Type I/O Jig
Model APC-VSIONA
External Dimension
---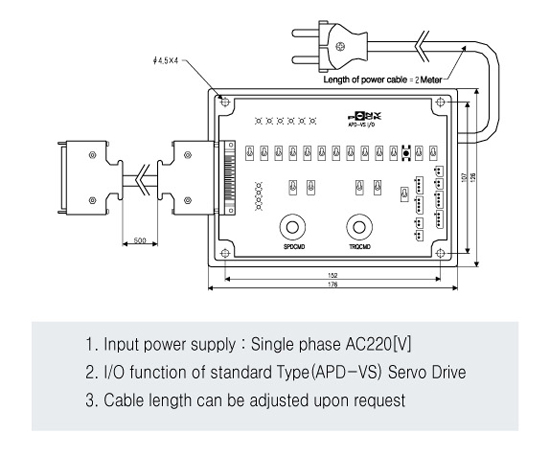 Braking Resistance

Model

APC-140R40
External Dimension
---